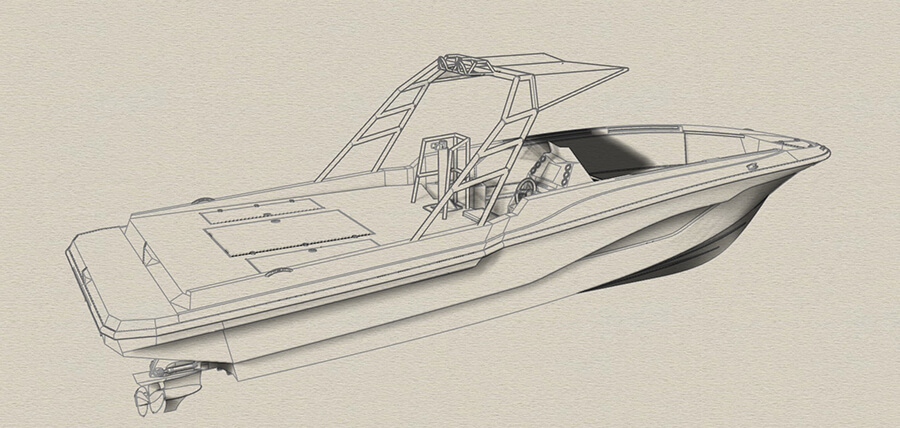 Best parasailing boat "Parasailing 36" designed as offshore area. The advanced deep V hull gives an extremely soft and dry ride. This is combined with flared chines which minimise drag and create high lift areas for easy planning and excellent stability. Parasailing 36 is the design work done for the purpose of providing the desired purposes on the boat. Parasailing 36 has a comfortable seating area,Flying area(Operational area), icebox and much storage areas. The Boat can use V- Drive System, Waterjet system or Sterndrive system. Excursion 36 has 13 person capacity. Designed with single or double crew operation in mind, our unique winch control, utilising foot operation by the helmsman, enables steering and parasailing operation all from one position. The Parasailing 36 gives responsive handling even at low speeds and a level, smooth ride when at full acceleration. The precision balance of the boat allows smooth horizontal lift on to the plane without bow rising and any loss of forward vision, essential when operating in busy waterways.
Advantages of Parasailing 36 from ather parasailing boats:
1.) Smoother, faster, more responsive and with an effortless efficiency
2.) Wider platform, more operational use
3.) The boat has a deep-vee hull. So, especially a boat that can work more effectively on open seas
For more information, please contact us.
TECHNICAL FEATURES

Overall Lenght (m)

:

10,85

Body Lenght (m)

:

10,77

Lenght of Water Line (m)

:

8,43

Water Lenght of Beam (m)

:

2,55

Beam (m)

:

3,25

Draught (m)

:

0,63

Light Displacement (kg)

:

1950

Full Displacement (kg)

:

4800

Fuel Tank (lt)

:

370

Capacity (Person)

:

13

Construction

:

GRP

Design Category

:

C