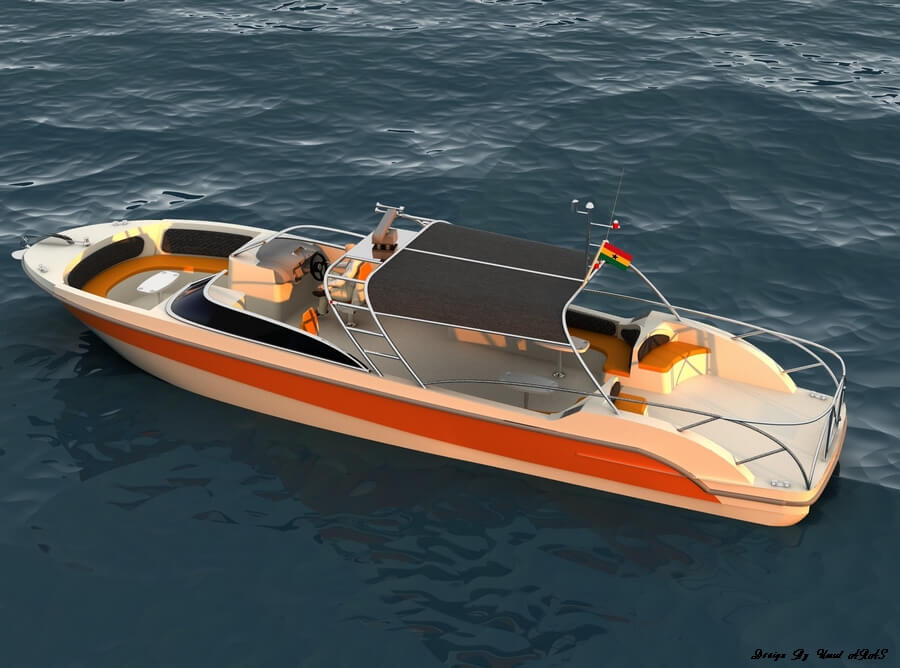 Sport boats will be attractive, speedy and high ability to move at during fast. It should be ergonomic and abundant usage area when it stops. Tiger 44, sporty looking, whether you can use as a pleasure, if it is required as a commercial, you can sprint max. speed 35 knot with twin engine, a motor yacht design.If desired, the place to be prepared on the boat wc and kitchen counters.

For further information, You can contact us.
Construction & Materials
Shallow Sport Boats are built to take on even the harshest of environments. Our success is the result of continuous innovation, proven construction techniques, and the most superior materials our industry has available.
1. 100% Hand-Laid Glass
All Shallow Sports are 100% hand-laid E-Glass to ensure maximum strength and guaranteed quality. This includes the hull, the stringer system, the console, the top deck, and even the hatches. Hand laying and rolling out every square inch of every layer of glass ensures a consistent lay up schedule as well as eliminates thin spots. Shallow Sport boats always uses the best high strength stitch-bonded fiberglass fabrics available through Fiber Glass Industries.
2. Composite Reinforcement
All components are sandwiched with hand-laid fiberglass and reinforced with Polyumac and Coosa composites. Polyumac is a structural honeycomb shaped core made up of polypropulene copolomer. Coosa "The ultimate wood replacement", is a very strong and light weight fiberglass infused 20lb. density foam board alternative to wood that will never rot.
3. Three Part Double Bonded Construction Method
Super high strength bonding putty engineered for marine bonding applications is used to connect 1. the hand-laid hull with 2. the foam filled fiberglass stringer system, and 3. the vacuum bagged Polyumac inner liner. We then double bond the deck with the hull by hand laying 45 degree bi-axle E-glass to form a permanent connection of all three major components. The three part double bonded construction method builds an extremely strong and light weight boat made to handle the toughest of conditions.
ECHNICAL FEATURES
Overall Lenght (m)
:
13,65
Body Lenght (m)
:
13,55
Lenght of Waterline (m)
:
11,30
Lenght of Beam (m)
:
3,20
Beam (m)
:
3,75
Draught (m)
:
1
Light Displacement (ton)
:
6,5
Full Displacement (ton)
:
9,5
Fuel Tank (lt)
:
1000
Capacity (Person)
:
20+3
Construction
:
GRP
Design Category
:
C