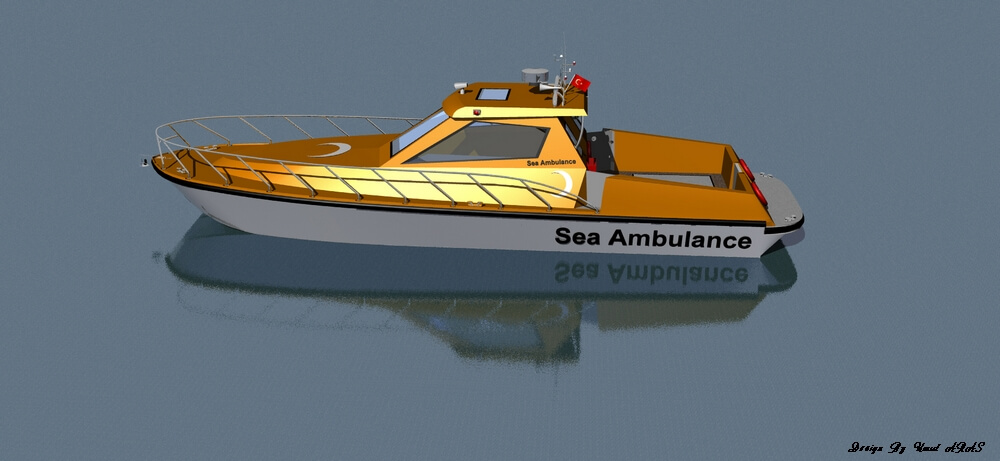 Boat design for ambulance should be suitable for work purpose. Boat design should be enough movement space on the deck. Also, Boat should be included all equipment for ambualance boat. Twin 900Hp power engines, high speed, easily accessible. (Max 50knot) Especially, inadequate road traffic locations, patients, rapid and comfortable, designed for transport ashore. Ambulance 49 is a commercial boat design. Ambulance boats can be customized in hull shape, engine, drive & lifesaving facilities as to suit the needs in marine and inland conditions. Boat can use Stern Drive, Jet Turbine or propulsion system.

This boat has been constructed as follows;
1.) Single deck
2.) Sharp and curved bow, perpendicular transom
The boat has been moulded by fibreglass material. The sections of the boat are described as follows;
1.) Fore peak, chain locker under the deck
2.) Personnel cabin
3.) Fuel tanks compartment (between two bulk heads)
4.) Engine room; above aft deck
For more information please contact us.

TECHNICAL FEATURES
Overall Lenght (m)
:
14,80
Body Lenght (m)
:
13,80
Lenght of Waterline (m)
:
12,69
Lenght of Beam (m)
:
3,42
Beam (m)
:
4,35
Draught (m)
:
0,80
Light Displacement (ton)
:
13,4
Full Displacement (ton)
:
16,4
Fuel Tank (lt)
:
2000
Capacity (Person)
:
10+1
Construction
:
GRP
Design Category
:
B